F5LAW's keys.
Bunnell Double Speed Key.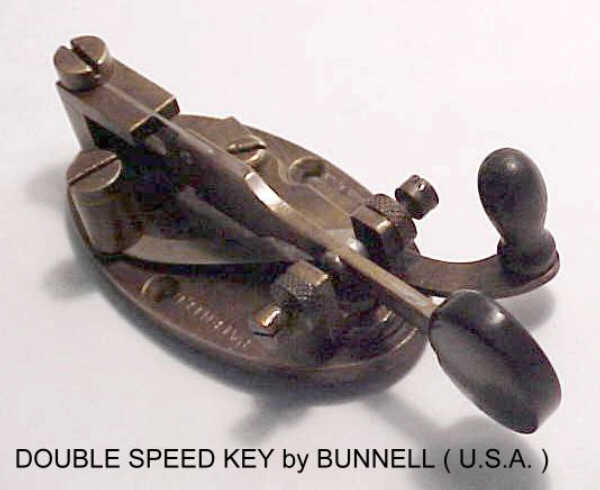 The Bunnell Double Speed Key, common ancestor of all sideswipers, brings us back to the heroic era of the American landline telegraphy. Introduced in the early 1900's, the key remained popular among operators for several decades, it is nowadays regarded as a collectible item. This is a solid brass compact key, well designed and crafted, it should be screwed down to the operating desk to be comfortably used. My grandpa Bunnell cootie spends most of its time up on a shelf in a cabinet next to other old keys, enjoying a well-deserved retirement. [F5LAW].
DYNA Maniflex sideswiper.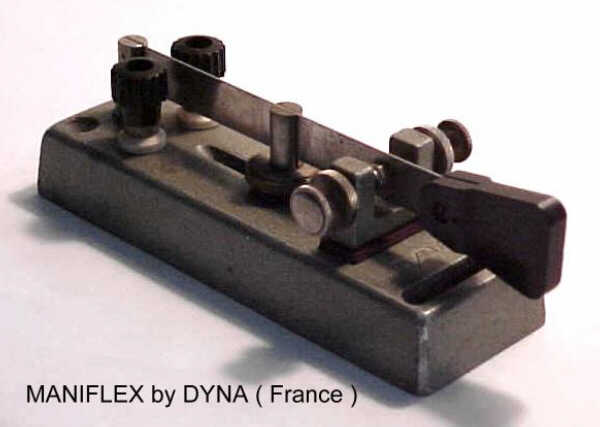 The Maniflex is a model made by the French company DYNA. Several variations of the key have been manufactured at least from the early 1940's up to the late 1970's. This classic sideswiper has been very popular among professional and amateur wireless operators. Aluminum base, tungsten contacts, steel blade lever, the key is well made and has a nice feel. The blade passes through a sliding slotted post, this arrangement enables an easy and accurate adjustment of the blade flexibility. For a comfortable use, the key should be mounted on a heavy base or screwed down to the operating desk. [F5LAW].
Further info on the Maniflex.
FME FM-32 sideswiper.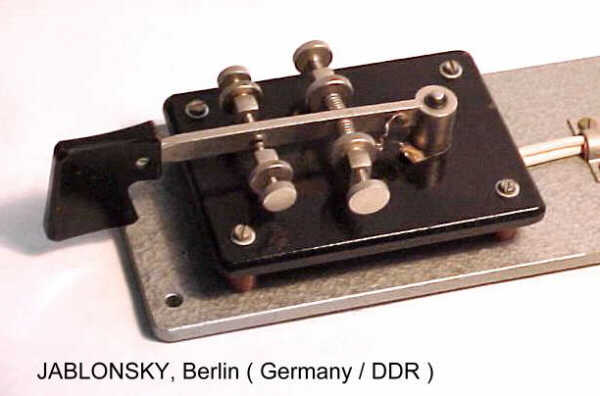 The FM-32, often referred to as the "Jablonski" sideswiper, has been produced by FME in Berlin (GDR) in the 1950's. Hundreds of these keys have been used for the education and training of radio officers at the Rügen Radio coastal station, cf. Gregor Ulsamer's excellent book on German telegraph keys: "Faszination Morsetasten", p. 142 and 143. The FM-32 is a robust and well crafted model, mounted on a heavy steel base with anti-skid rubber feet. The lever consists of a straight rotating arm, a two coil springs arrangement stabilizes the lever in the central rest position and enables the adjustment of the lever spring tension. The key has an excellent feel, so far this is my favorite sideswiper. [F5LAW].
Visit the FM-32 key census page.