W5PEH's keys.
LTA BBMO cootie key.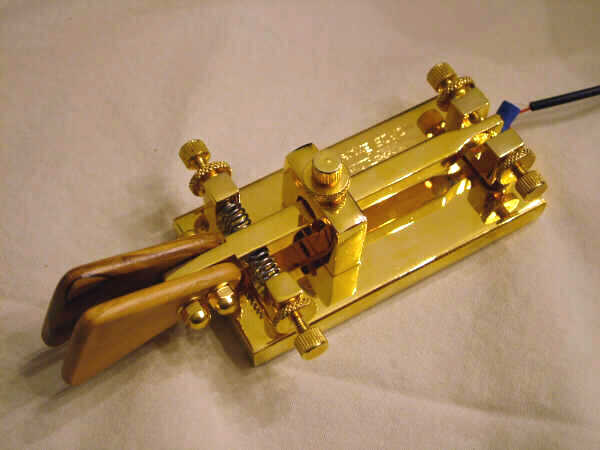 This little LTA BBMO is a decent little Cootie, however there isn't much tension range. The Tension is to high and I am going to go with springs with less tension. Also, the Trunnion mechanism needs to have more recessed or counter sunk holes in the lever to help ensure a smoother lever movement. [W5PEH].
Video.
GHD GF-601A key.
The GHD 601A is a nice heavy key and does not move around on the table. Very nice, smooth, fluid feel with the HackSaw Blade. Lots of adjustment range. Can also be wired as a Paddle. [W5PEH].
Video.
USSR KDM sideswiper.
This is the Russian KDM Sideswiper that I acquired from SV1EDY. These Navy keys have probably been made in Leningrad in the 60's / early 70's. Very nice and smooth feeling Sideswiper. I feel very lucky to have picked up one of these keys. Notice some of the similarities of Yann's fine business Jablonski. [W5PEH].
Video.
KENT Single Paddle Key SP-1.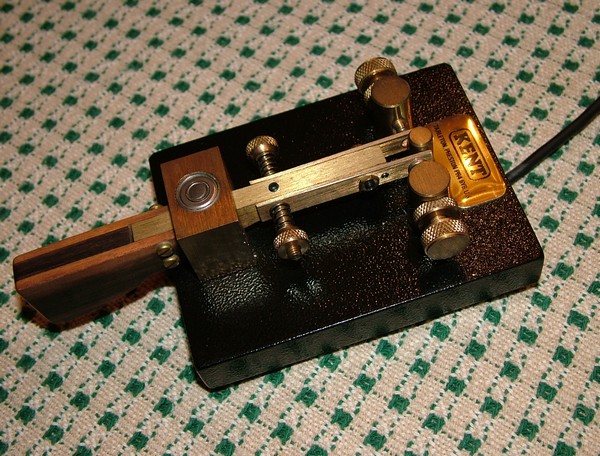 This is my Kent SP-1 single lever with a nice feeling custom Walnut finger piece. It works very well as a Paddle and/or Sideswiper. The older models had the flat end on the lever where the finger piece mounted. On the newer ones the lever is notched so the finger piece will be more securely mounted and apparently take some stress off the finger piece. [W5PEH].
IK1OJM Black Line Sideswiper.
A superb Sideswiper from Master Salvatore, IK1OJM. Magnetic Tension. I was lucky to have Sal take the time to build one of these for me. Very smooth and controlled feel. My most comfortable and precision feeling sideswiper. [W5PEH].
Video.
TW Radio TWanger Sideswiper Pre Production Model Nr 003.
TOP PERFORMANCE. This key has a nice fluid and controlled feel to it. Lots of adjustment range. Spring contacts and magnets add a nice light fluid feel.
For now it is side by side with my IK1OJM Black Line as my number 1 cootie. A full production model would be a pleasure to own and use. Tom, G3HGE did an excellent job on this key. Very nice. [W5PEH].
Video.
Begali Sculpture Swing Brass Prototype.
This is one of the 3 original Brass Prototypes of the Begali Sculpture Swing Sideswiper/Cootie Key which is made by Piero Begali, I2RTF. It is a fantastic feeling Sideswiper and has a wide array of adjustments.
The Production Model is made of Stainless Steel. For more information on this key please see the Sculpture Swing page on the Begali website. [W5PEH].
Video.
Video: operating posture demo.
This is a video of how I send with the Sideswiper, also known as the Cootie Key. My arm and the side of the palm of my hand are positioned at about a Zero up to a 30 degree angle or so in relationship with the key. Slightly more comfortable for me with the arm at about 20 or 30 degrees. My arm and palm are resting on the desk. The side of my palm and last two fingers are resting on the desk. My thumb and index finger and my wrist do the work. Practice Practice Practice. Hope this is helpful, this is the way I learned it on my own and I am sure there are also some other great suggestions out there, but this works great for me. [W5PEH].
Video.