NT9K's keys.
LTA GMM Gold plated oak base cootie key.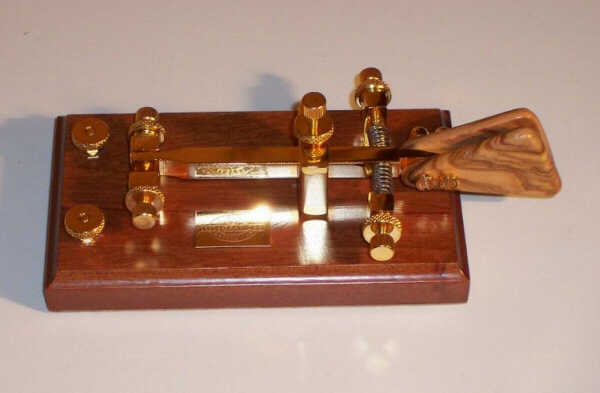 Guillermo Mestre Janer, EA6YG was the founder of Llaves Telegraphicas Artesanas Keys, and he passed away on March 17th, 2008. I purchased the last remaining GMM sideswiper Morsex had. Unfortunately, mine had the double finger pieces. I wanted the single and plan to make my own someday. I have been using this key since Christmas 2007. It took lots of practice and fooling with the adjustments as the springs are incredibly stiff. This sideswiper uses a center pin style bearing with the springs forward and the contacts rear of the key. My honest opinion is, I don't like this key very much and plan to make a homebrew. I can and do use this key, but must hold it down on the desk. On the plus side, is the appearance. It is beautiful and compliments my gold plated LTA SKCC straight key nicely. I wish I had gotten the bug to match. [NT9K].
Homebrew Corian sideswiper.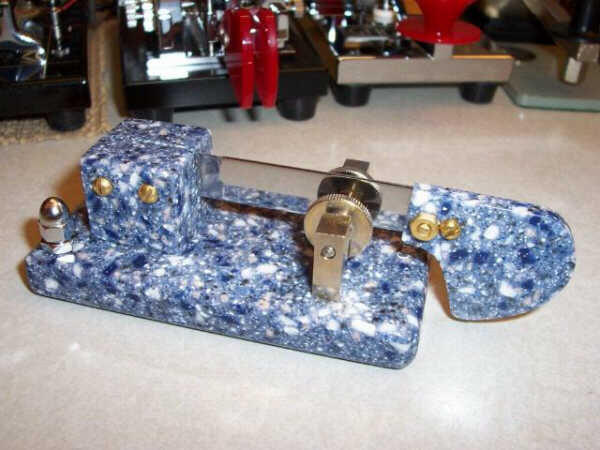 This is my first attempt at building a sideswiper. I built it from a 4 inch square by half inch thick Corian® sample. That is the stuff they make kitchen counter tops from. The lever is stainless steel and had to be thinned down just before the sandwich block to allow it to flex properly. It works great and stays put on the desk. I glued a thin piece of shelf liner on the bottom for that.
I still have more plans for this cootie. I'm going to replace the brass hardware with stainless and redo the finger piece by cutting a slot in it and inserting the lever into the slot. It will make it look better, less lop-sided than with the lever screwed to the side of the finger piece. I hope this is the first of many homebrew sideswipers for me. [NT9K].
Homebrew Corian sideswiper #2.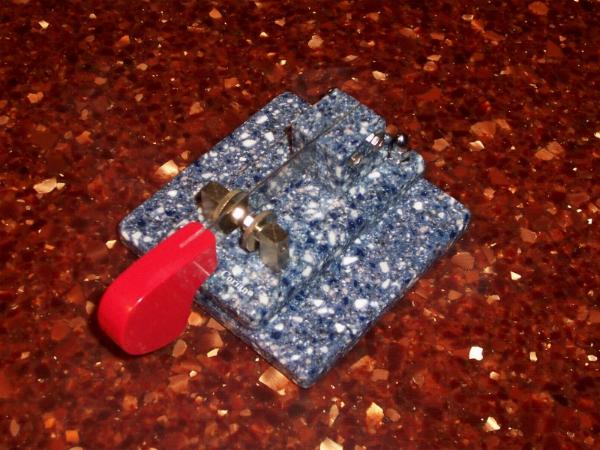 This is my latest home brew sideswiper made from Mediterranean Blue Corian®. The base is 4x4 inches and each layer is 1/2 inch thick. The finger piece is a new color of Corian® they just came out with, called HOT.
It has a light action and stays put on the desk, unlike any of my other sideswipers which I have to hold down. The adjusters aren't the best, but work ok. I'll fabricate my own adjuster posts next time and buy store bought knurled screws and nuts.
This was a fun and relatively easy key to make. If you notice it is sitting on a piece of Avonite NewCaldron. Look for me to make some keys out of that stuff sometime soon. It will look awesome with gold and brass hardware. [NT9K].
Homebrew WES junkbox Steak Knife cootie key.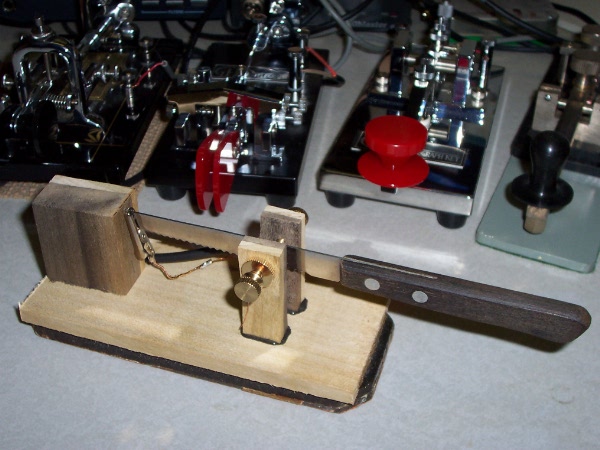 I built my key in less than 1 hour using no electricity. I started out by scrounging the kitchen drawers for just the right steak knife. I don't have very many to choose from and this one had just the right amount of flex. It took several attempts to hammer the steak knife in straight.
All the pieces of wood were scraps from my pile. I cut no wood for this key. For the adjuster posts, I drove a nail through both pieces and removed it, then hand tapped the adjuster screws. I used JB Weld to glue the adjuster posts down.
Back to the junkbox again. This time I was looking for some way to weigh the base down. I decided to use the cast iron slug from the base of a Jap Coffin Bug. I used shoe goo to glue that on. Again back to the junkbox. I had to find a way to wire it up. My binding posts are wooden. I found a patch cord I had with alligator clips on the ends. Perfect. I clipped one to the steak knife.
Still the adjusters had to be tied together and connected to the cord. Back to the junkbox again. This time I found some solid single strand wire and wrapped it around my adjuster screws from one side to the other. I then clipped the other alligator clip to the wire shorting the 2 adjusters. This worked!
The key worked ok, but was hard to get used to the handle. I fouled up a few times, but it was fun.
SKCC WeekEnd Sprint Results.
[NT9K].
GHD GF-601A (May 2009) key.
May 2009 - I just got a new GHD GF601a this past Friday. GHD has changed the design and after comparing some photos of Pete W5PEH's older version, there were lots of changes. One was they got rid of the hack saw blade and went to a chrome spring steel blade. The key came with a paper listing the changes and said the changes were effective with the May 2009 batch. Here is what the paper says:
1. The yoke part was changed from screw stopping type to a machined unification type.
2. For improvement of lever control changed lever material from saw blade to high quality plate spring.
3. For details the parts were improved for better controllability of the key.
4. The knob is changed to a smaller and lighter weight. The damper is also changed to felt.
This key is so fine! It had been recommended to me by Tony W4FOA and then Pete W5PEH. I am impressed with the amount of adjustment for stiffness of the blade too. This key is a pleasure to use and I am sure will become my go to key. [NT9K].
The Ruby Stairsteps homebrew cootie key.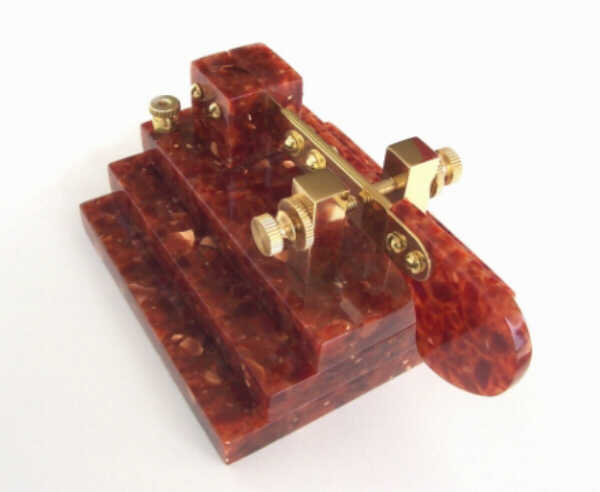 This was my 7th home brew key. This one is made from a solid surface material called Avonite NewCaldron. This is ordinary kitchen counter top material that you can use plain wood working tools to cut, drill and shape it with. I call this key Ruby Stairsteps. If you would like to see how it was made, step by step details can be found here:
Ruby Stairsteps details.
[NT9K].
NT9K's Web Pages.