F6UIG's keys.
Introduction.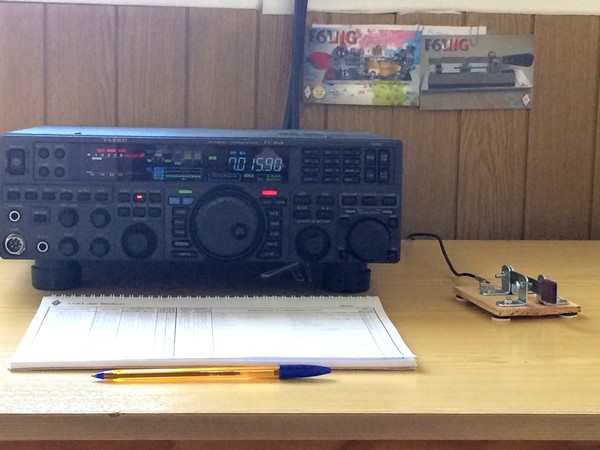 I've been a ham since 1992 and I passed the CW exam in 1994 after much difficulty in learning the code. Since then I've been using mostly CW. In 2010 I met a new ham in the radio club, an ex military and policeman who was using a hacksaw blade key. What a magic sound this instrument was producing. Since then I've made some researches and I ran across the "sideswipernet" website, a group of lovers of CW, keen on beautiful Morse keys. Thanks again to all, 73 de Pascal. [F6UIG].
Homebrew Hacksaw Blade Sideswiper.
This is my homebrew hacksaw blade key, built with modest means and skills. The key is mounted on a wooden base of 10 x 8 x 0.5 cm (LWH). The blade is 9 cm long, the distance between the rear post and the contacts is 5 cm. It has a great feel to it, even after hours of use, this is my favorite key for long periods of activity. FYI, I've made some experimentation with different types of hacksaw blades, I found out that the best ones are the 8 teeth per cm type, more flexible than the 12 teeth per cm type. [F6UIG].
Audio: "Hacksaw blade sideswiper demo", by Pascal, F6UIG.

DYNA Maniflex Sideswiper.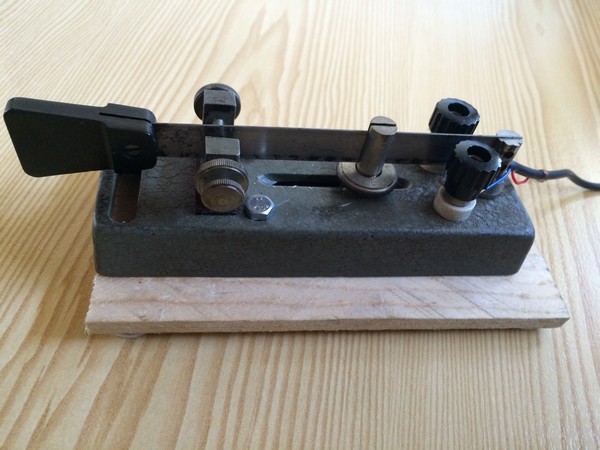 This is my Dyna Maniflex sideswiper. I salvaged it from the garbage can in the local club station I'm member of, nobody would care for it. I immediately fell in love with this key, this was the first time I ever saw one in real life. After some cleaning, I found a base for it, a few adjustments and it has been a delight to use thus far. The key has a very soft and smooth feel to it, the blade has less inertia than the lever on the I1QOD key. [F6UIG].
Further info on the Maniflex.
Video.
Chrome Maniflex Sideswiper, by I1QOD.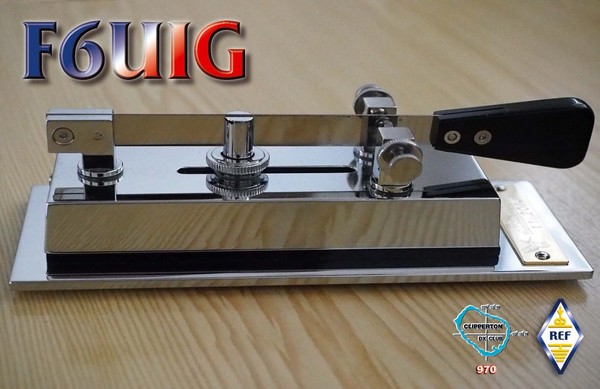 This Chrome Maniflex sideswiper is a superb piece of workmanship by Alberto - I1QOD. I ordered the key in November 2014 and received it after a delay of only 20 days or so. The key is very heavy and its finish is perfect. I would be less enthusiastic regarding the operating feel however. I found out that the lever has too much inertia, it is too hard to manipulate. By comparison, the Dyna Maniflex has a much softer and smoother feel to it. I also noticed that the adjustments won't hold after several hours of use. This is just my opinion. Thanks again to Alberto - I1QOD for keeping the sideswiper saga alive. [F6UIG].