LW3EX's keys.
4¢00tie (4 cents) homebrew cootie.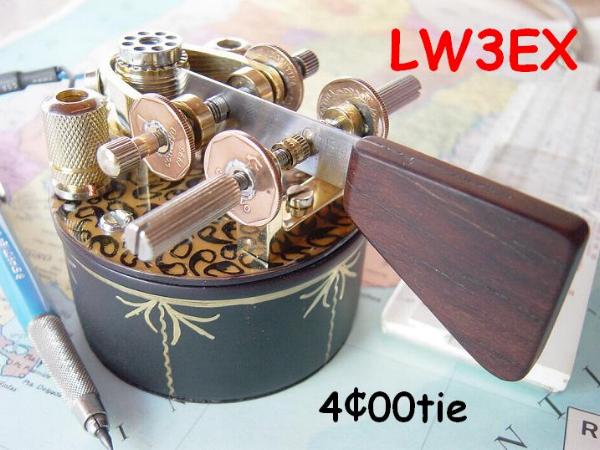 This was my first attempt to make a Sideswiper key, It was designed in August, built during September and used on the October 2008 SKCC Week End Sprint.
All the materials are junk parts, I used a tin of paté de foie for the base (not empty, I filled in the tin with molten lead, so the total weight of the cootie is around 1.2 Kg, in this form does not go away slipping on the desk :) a stainless steel knife blade for the lever with an SO239 for it´s back support, the handle paddle was handmade with a piece of Red Quebracho firewood, the adjusting screws made with surplus PC and old alarm clock parts, the locking nuts are 4 coins of a cent with a nut welded to the center, also used some pieces of brass sheet, PCB, springs, two audio cable connectors and some other miscellaneous stuff. [LW3EX].
Homebrew Vertical Cootie.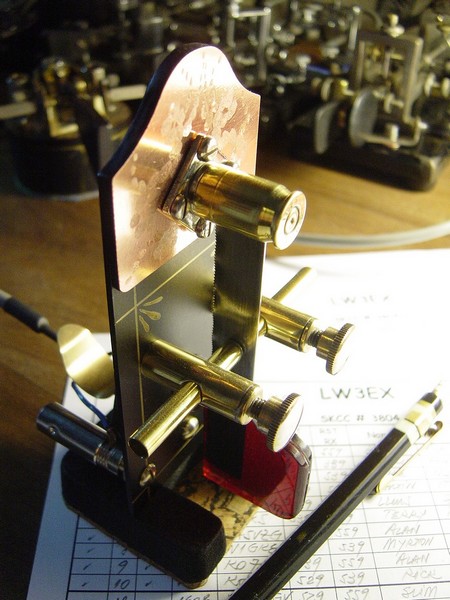 There is not much to say about my vertical cootie, first of all I decided to make one because none other has ever been made before I guess :) and also to save space on my small radio desk (base measures 5x5 cm)... I used all junk parts, mostly of them were hand fabricated.
The action is very similar to the horizontal cootie; they have the same distance between the end fixing point of the blade and the contacts (35mm) but in this case I used a hacksaw blade (it's a bit stiffer than a stainless steel knife blade) so I did not put a damper on it. Gravity acting on the hanging lever and finger piece acts to automatically stabilize and center the lever of the key. [LW3EX].
Homebrew DSK-Bug.
It was my 2011 winter project... Key parts are mainly Copper and Bronze, mostly of them handmade of junk stuff.
My first thought was build a small bug like a Midget... when assembling the parts I realized that if I locked the vibrating lever arm and properly adjust the contacts spacing it could be use as a Cootie too, so I added a lever at the damper in order to fasten the arm and prevent the oscillation...
It works fine in both modes as a DSK or Bug !
In the construction I take into account some old bug details like, the assembled frame, the boxed spindle (hard time doing this thing) and the dot spring & stabilizer, Ahhh also added a nameplate.
The base dimensions are 6,5 x 2.0 in. and the total weight is 650g. [LW3EX].
Home Made Replica Of A "Style G" Bunnell Double Speed Key.
I could never find an original Bunnell sideswiper to buy, so I had to focus on making a replica of the scarce model G based on the original patent and drawings and size of the Base and lever, taken from an original model W key. I eventually got round to making one (thanks to my friends F5LAW and PA3CLQ for their help and information). For a personal touch I added the "Base Hole" style only seen in the original "Old Bunnell" advertisements.
All parts are handcrafted with the use of handtools including some screws, they are all mainly Brass and Bronze. For the main spring Brass sheet and two copper-Phosphor alloy springs are used to prevent and reduce lever rebound, silver was used for the contacts. For the rare insulating block, knob and paddles I used Quebracho hard wood, the base trim is made from a piece of steel sheet with several coats of pure Enamel paint.
Summing up!, it was not too bad to make and works pretty well, although a bit more noisy than a normal blade style DSK, Click, clack, click clack! [LW3EX].