G4ZXN's keys.
Homebrew Nail File Cootie Key.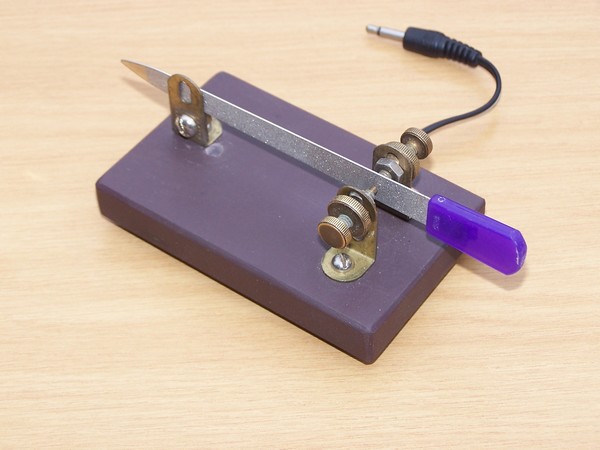 Since being licenced in 1983 I had exclusively used a straight key and had no desire to use electronic keyers (machines of the Devil ;-)).
Nearing my 80s I now have developed the infamous "glass wrist", so I took up the mechanical bug key J36. This allowed me to continue CW although I noticed it also narrowed down the number of operators that would respond to my calls, I guess the "lilt" of the bug was not to suite all ears.
During a contact with Nigel G0IIK I took a look at his QRZ page and saw his home made Cootie key and I think this was the magic moment.
Thus this is my first effort, the "Nail File" Cootie. I practiced for about a month before I dared have my first QSO on air. [G4ZXN].
Homebrew Veroboard Cootie Key.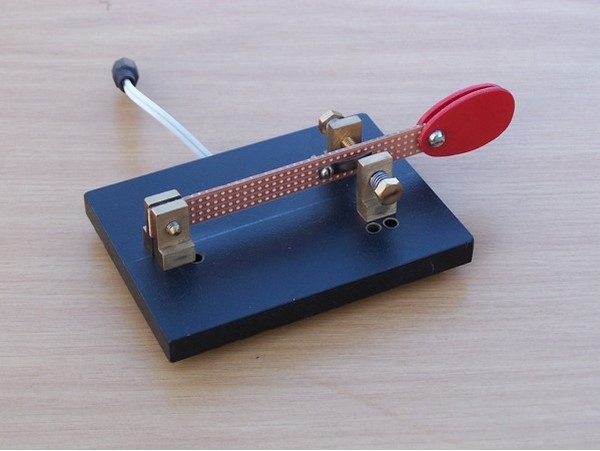 As with the "nail File" key above, and in keeping with the "KIS" (Keep It Simple) approach this is my "Veroboard" Cootie. [G4ZXN].
Homebrew Meccano MK3 Cootie Key.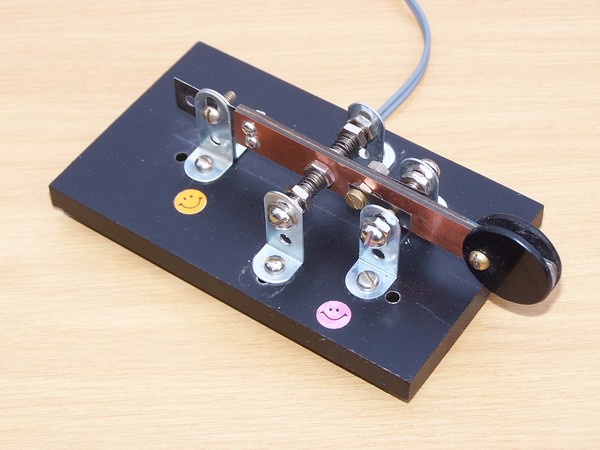 When I had my first QSO with Durk PA3BYW he kindly invited me to join the SSN the following Sunday evening, and also told me of the great web site. I was now truly hooked and researched many members home made keys.
One commercial key that stood out was the Russian KDM and this is my attempt to reproduce that key. Based on near proportions from a photograph, some Meccano bits, two strips of double sided PCB for the armature. "soft" contacts were made from two short pieces of an old alarm clock mainspring. I call this key "Meccano MK3". [G4ZXN].
Homebrew Neon Cootie Key.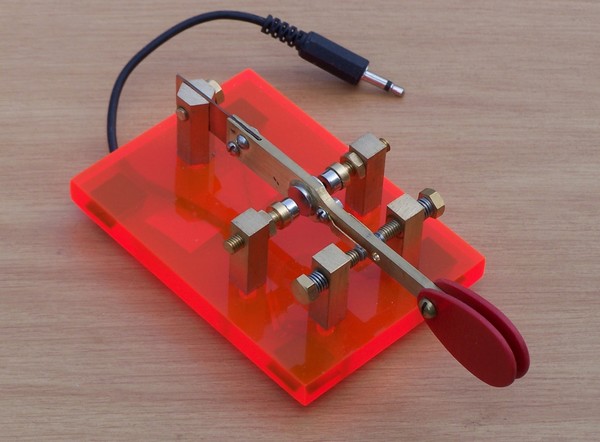 This Key is a refined version of the Meccano Mk3 above. The proportions are the same Re, the KDM but instead of using springs for damping magnets are used.
I call this key Neon. [G4ZXN].
Homebrew Maniflex Repro Cootie Key.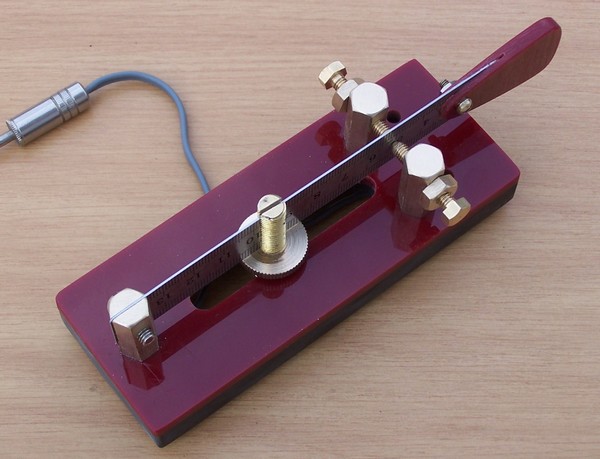 My version of the well known Maniflex Cootie key. Slightly wider at 2 Inches rather than the 40 mm of the original, all other dimensions are fairly close. In use I have found moving the adjustable pivot post closer to the contacts enables smaller gaps with less chatter giving a faster action.
I call this key Maniflex Repro.
---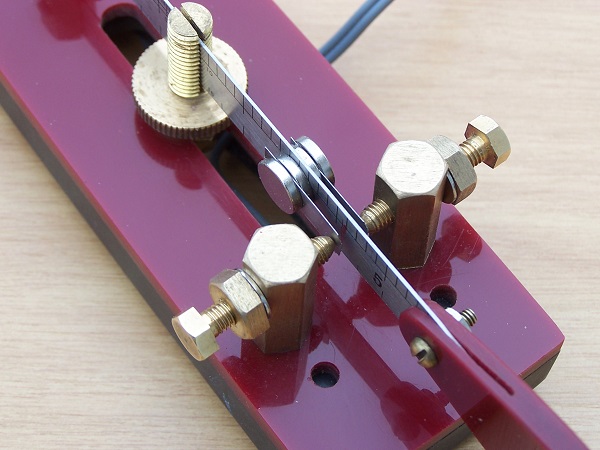 On the few "rigid" arm Cooties I have made I have always used "soft" contacts and have wondered how they would feel fitted to "flexible" arm keys i.e. Hacksaw blades, steel ruler, feeler gauge etc..
In my case there were problems drilling the above materials so I purchased from an auction site a number of button magnets 10mm dia and 2mm thick, and by trapping small strips of springy material i.e. Shim steel, feeler gauge or clock spring as in the photo on the right, the problem was solved, infinite adjustment as well. [G4ZXN].
Dyna Maniflex and USSR KDM Sideswipers.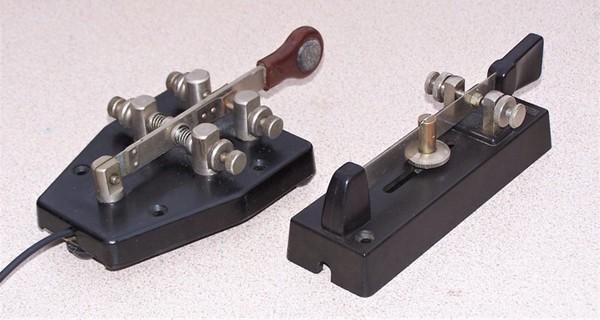 Although it is very satisfying you make and use home made cootie keys I have always wanted to own just two commercially made Cooties, the USSR KDM and the French DYNA MANIFLEX. After a number of years searching I now have them both photographed below (picture on the left). The KDM I bought from Kees PA3DEB (SK) and the MANIFLEX recently on Ebay. [G4ZXN].
USSR KDM Sideswiper.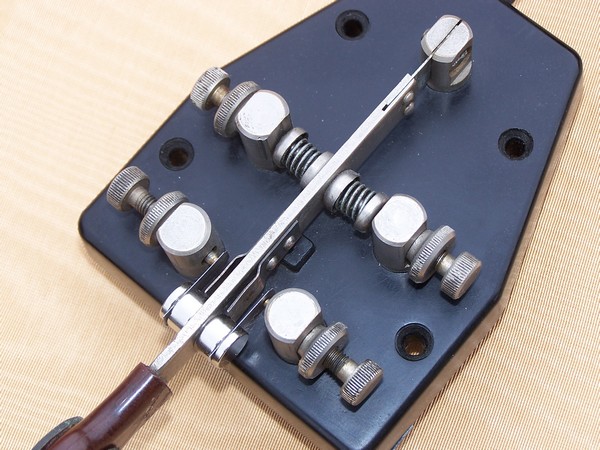 The existing spring contacts on the Russian KDM Cootie are not that springy and can produce scratchy CW (mine does).
With the use of a number of button magnets and small strips of .005" (0.127mm) shim steel, feeler gauge etc. as in the photograph this scratchiness can be eliminated.
The arm of the KDM is non magnetic but the attraction of these neodymium magnets is strong enough to do the job. [G4ZXN].
Homebrew Meccano Cootie Key.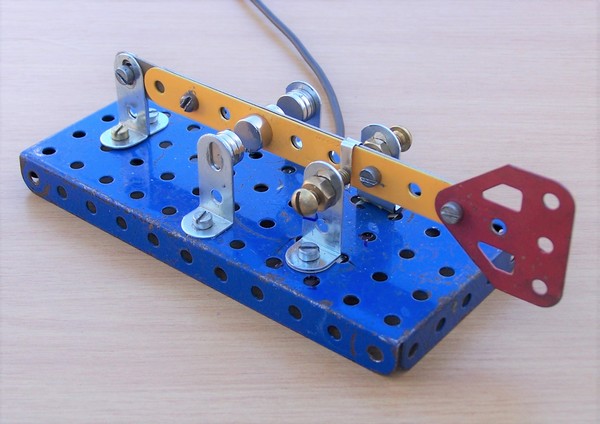 Just for the fun of it, the "Meccano" Cootie. Tension/damping is adjusted by adding or subtracting the small button magnets each side. [G4ZXN].
Homebrew Meccanoflex Cootie Key.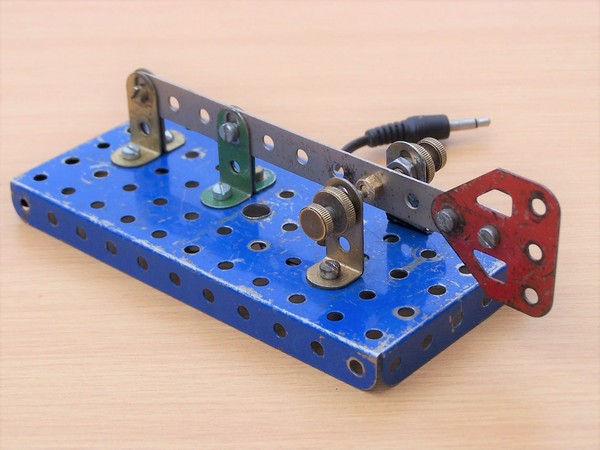 It had to be done, the "Meccanoflex" an abstract fully adjustable interpretation of the Dyna Maniflex. [G4ZXN].