M0MMX's keys.
Homebrew MK2 Cootie.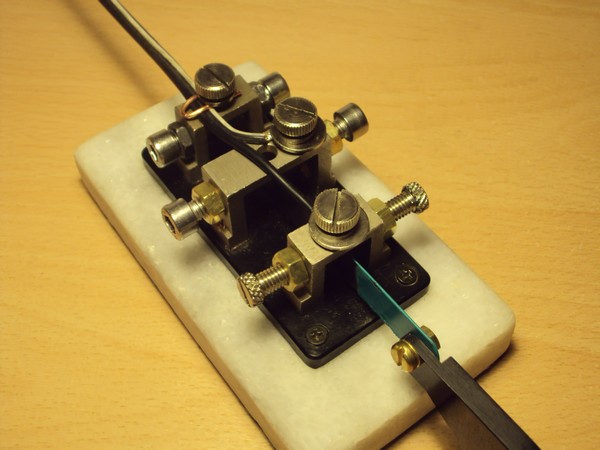 My name is Dennis M0MMX and I fell in love with Cooties after experiencing difficulties with my twin paddle and pump keys. My first sideswiper was constructed from wood, shelf brackets and a cheap clamp to hold the hacksaw blade, it worked, and led me on to make my MKII, ironically, based on a 1940's 8amp MKII.
The original handle of the MKII has been removed; the existing holes drilled out and tapped to accommodate the M6 screws that secure the hacksaw blade and contacts. The dimensions of the original MKII appear to be perfect i.e.---
- Clamp to contacts = 1.125 inches (3cms approx)
- Clamp to finger = 3.75 inches (9.5cms approx)
The base is made from marble cut from a piece found on a hillside on the Greek island of Lesvos, finishing off a great but very cheap key. [M0MMX].
Homebrew Touch Cootie.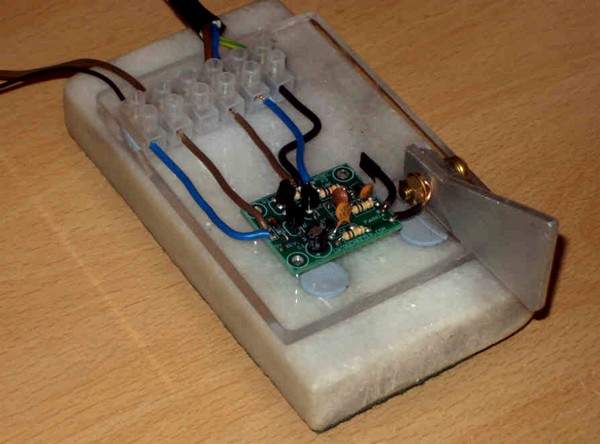 I embarked on a touch cootie project and have just finished my prototype (I had a QSO with Miles PA3CVV the other night so I know it works) --- could this be the worlds first?
Basically I bought a P3 kit from Sumner WA1JOS from his website for 22 dollars including postage and although primarily it is for twin paddle operation it works equally well with a single paddle although it took a little fiddling to get the sensitivity correct. It has a strange unforgiving feel having no moving parts but I am sure that when I get used to it, it will be my main key.
It is basically a metal finger piece glued to a Perspex plate (both cut from some old shop shelving) with the electronics along side, I have used connector blocks for simplicity and it is mounted on a marble base. The key is powered with a 9v battery and the rig of course is set to a straight key setting. The only downside during construction was my poor eyesight------a good magnifying glass is required!!!! [M0MMX].
M0MMX's Web Pages.