G0IIK's keys.
Homebrew Sideswiper #1.
I first became aware of sideswiper keys shortly after gaining my licence in 1987 when I used to listen to a G4 station whose cootie code was absolute music to my ears. I tried to emulate it with a straight key but could never get near to that wonderful style of his. I came across a sideswiper key made by LTA but it had this horrible chunk of brass for a paddle which I could never adjust properly because it had no real bearings at the fulcrum and was very roughly engineered. At that stage the idea of cootie was put on the back burner and forgotten until very recently when after a break from radio I came back into it and heard Sandy G0VQW sending this lovely style of CW and the bug bit me again, ( excuse the pun !)
I am not very skilled at making things but I used the base of an old LTA key and came up with a passable effort using a camping-knife as a paddle. This got me started but I have now changed the camping-knife for a more traditional steel rule which is much more flexible and gives a more responsive feel to the key.

I suppose I have been using the cootie key now for about a month or so and I love it so much I have already ordered a TWanger from Tom, G3HGE, you know we are so fortunate that there are still people making this type of key for people like myself who have no engineering skills so that we can keep cootie alive, having said that I am constantly surprised at the number of stations worldwide who are using this sending style. [G0IIK].
TWanger Sideswiper by TW Radio.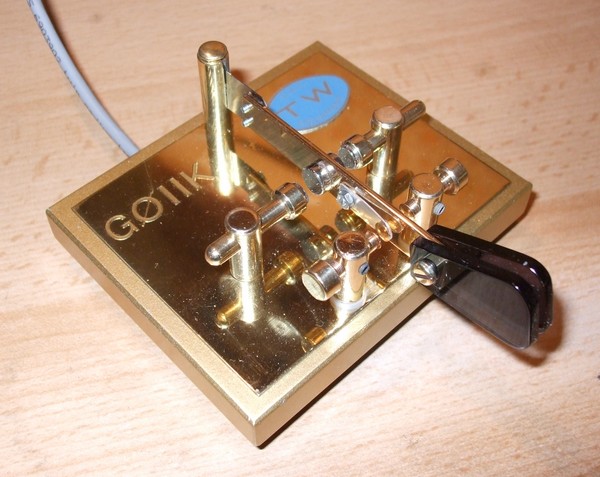 I am sure anyone would enjoy using one, they are so light and responsive, adjustable to whatever feel you would like. Some people like their finger-pieces lower down but as you can see from the foto I prefer mine a little higher, just a matter of personal preference I think, but the key is infinitely adjustable. The key is very quiet in operation with none of the clatter I got from my home brew effort so the way the contacts are mounted on the arm is really effective. Also the service I got from Tom, G3HGE was superb, absolutely second to none, just what we would like from a fellow ham ! [G0IIK].
Home-made McMichael Special Sideswiper.
As promised here are a few photos of the home-made cootie I was lucky enough to come across at the McMichael Radio Rally, about 40 miles from London, the seller seemed almost apologetic to be taking my money for it but I paid what thought it was worth and I would have happily paid more !
Unfortunately the seller did not know the history of it or who built it. Apparently it came from a house clearance where the owner of the key had died so a mystery opens up, probably never to be solved !
The key is very nicely made using aluminium throughout but I am not sure about the finger-piece, maybe Perspex but not flexible, and to be honest the base could have been fashioned better as the contact block is slightly out of line. The base is 10cms x 12cms and 5cms high with a weight of a little under 400 grams, very light due to the aluminium used I imagine so I use Blu-tak to anchor it to the bench although it has a very light touch. All the threads are quite fine making adjustment very precise and the pivot post has a very smooth action. I am not sure either what material was used for the contacts, they are like small bullets and can be adjusted for a very close gap indeed. I finished up with a gap the thickness of roughly a QSL card whereas the TWangers seem happier with a very much wider gap. I think I have got the measure of it now but much like the TWanger it does take quite a bit of time to get the settings just right
I shall probably remake a base from a nice piece of wood, it would seem the maker was skilled with metal but no so hot with wood whereas wood is my forte, hi, but for the moment I am just enjoying using it. [G0IIK].