W4HEX's keys.
Bill (Will) Isherwood, W4HEX, Silent Key.
It is with great sadness that we announce that:
Our good friend Bill (Will) Isherwood, W4HEX, has become a Silent Key.
Bill (Will) Isherwood, W4HEX passed away this afternoon, Friday, May 6, 2016, at 5:30 pm from Mesothelioma after a year fighting it.
Bill (Will) will be greatly missed.
Our deepest sympathy to Bill (Will) Isherwood's family and friends.
Restored Bunnell Style W Double Speed Key.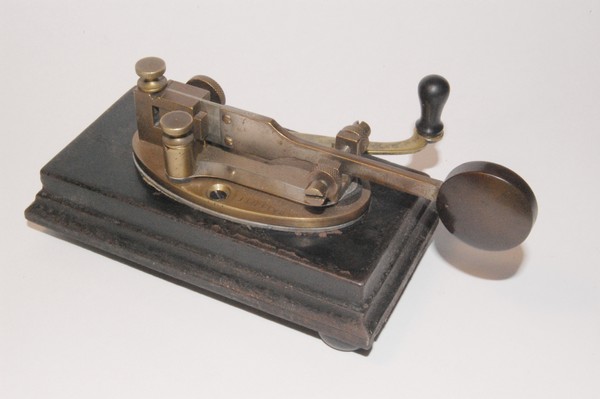 This old key is really grand and plays very well. Restoration included careful cleaning, a new conductor strap (left side) and a new closer screw, lever & knob (right side). The key is mounted on an authentic Bunnell DSK cast iron base.
On the left, the key as I bought it; on the right, after restorations & ready for work.
The connector strap, closer arm, closer screw and closer knob are new hand made parts. The connector strap is nickel plated brass. The closer knob is turned Delrin, a modern plastic. I do not like to over clean or heavy polish old keys like this one but making an old key work perfectly is a passion. The contact mounting, not visible here, was also carefully rebuilt to improve mechanical stability. This key has the original tungsten contacts and are still in very good condition for an obviously used old key. [W4HEX].
Homebrew Mystery Cootie.
The blade on the Mystery Cootie was made from a 9mm steel rod about 13.5cm long. Both sides of the rod were ground equally to produce a blade that is about 1.3mm thick. The end of the rod opposite the finger piece is left round for about 3cm. The round end fits into a phenolic cylinder with an outside diameter of 15.5mm. This sleeve insulates the rod/blade from the body of the key. There is a 15.5mm hole bored from end to end through the body. The phenolic sleeve and rod are slid into back end of the body and a set-screw through the bottom of the key squeezes and holds everything in place.

The finger piece is a piece of hand carved (not that well) hardwood that is slipped over the operating end of the blade.

Large silver contacts were soft soldered to each side of the blade and small slotted screws with silver contacts move through the sides to the desired spacing.

This key is not quite as stiff as the Bunnell. It can bounce and make false contacts if the spacing is set as close as is possible on the DSK. But the spacing on the Mystery is also pretty close and feels good sending. Nice weight too. [W4HEX].
USSR EKM-3B Marine Key.
If anyone can help identify this cootie / simplex key; supposedly from a Russian ship. That is all I know about other than it is an interesting key. It plays about the same as the Jablonski but with TWanger like contact shock absorbers. It is made of Bakelite and plated brass. The lever is made of aluminum with a cast on Bakelite paddle. It is a comfortable key. [W4HEX].
[Key identified as an EKM-3B].
FME FM-32 Sideswiper.
Jablonski FME FM-32 #186: The Jablonski plays well but needs a little more work; mostly cosmetic. Several minor parts have been replaced. [W4HEX].
Visit the FM-32 key census page.
Jones paddles SN-34 in mobile station.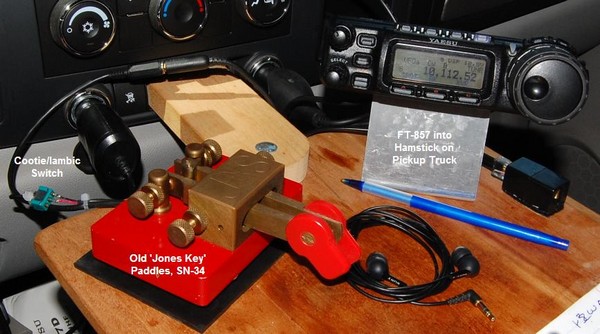 Spending a lot of time in a pickup truck driving for work, I recently added a simple toggle switch to short the contacts together on an old Jones Key iambic paddles to easily switch between iambic and cootie mode keying. This same station has been used to check in SSN several times in the past but using just an old Straight Key. The SK was recently removed from the truck in favor of this arrangement. [W4HEX].