KD8PMK's keys.
KD8PMK Homebrew Sideswiper.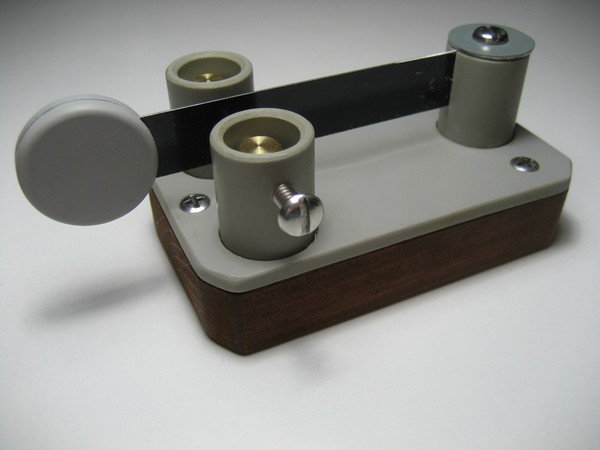 I made this sideswiper as a proof of concept to learn how to build a nicer key that will be made from 304 stainless steel and brass. Since this is my first key, it is made from scrap materials that I had laying around the shop. This key is made from non-conductive PVC conduit, some miscellaneous screws, a piece of wood, and a section of metal strapping used in shipping.
The upright pieces that hold the contacts and the metal strap are made from 1/2" conduit that has an outside diameter of 7/8". The base plate and finger piece were made from a 2" piece of conduit that I cut, heated in the oven, and then rolled out flat.

The main piece that required a little engineering was the brass connectors for the contact screws. They were turned on the lathe and threaded to fit the contact screws and the screw that makes the connection on the bottom of the key. It also acts as a clamping device to hold the pieces to the base and to provide resistance for the contact screws, keeping them from moving during operation.

The base is made from wood and was milled out to allow all the wiring to be out of sight and to allow the cord to enter at the back for a clean appearance.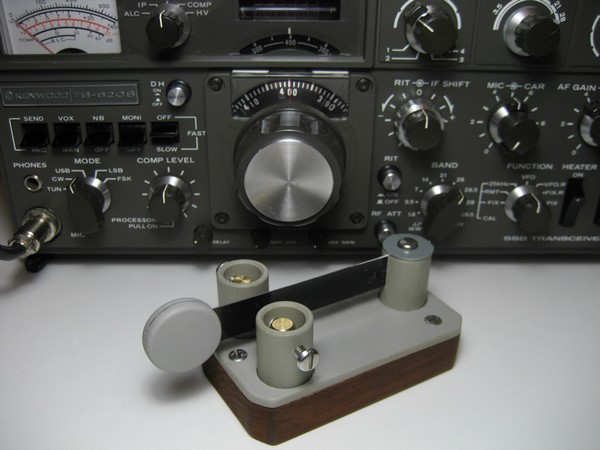 The photos included do a better job informing the reader of its construction and to show how it is all put together. Overall, I am happy with my first homemade sideswiper and think that it will serve me well. [KD8PMK].